| Service | Service Description | Our Price |
| --- | --- | --- |
| Men's Regular Haircut | Men's Haircut (where senior, servicemen discounts not applicable). | $40.00 |
| Razor Fade | Hot Towel and Lather used along with a straight razor for a clean shaven head. | $50.00 |
| Skin Fade | Balding out lower head w/ foil shavers. | $45.00 |
| Men's Discount Haircut | Seniors 62+, Servicemen Discount (Military, Fire, Police, etc.) | $35.00 |
| Child Haircut | For children 13 and under. | $30.00 |
| Buzz cut | Traditional short hair cut with clippers, usually same length on top and sides. | $30.00 |
| Line Up | Straightening of the hair for sharp angles. Can also line up hair with facial hair. | $20.00 |
| Mustache Trim | Evening out the mustache to shape it the way you want it. | $10.00 |
| Goatee Trim | Trimming your goatee for a even, clean look. | $20.00 |
| Beard Trim | Trimming the beard to shape to your face and style. | $25.00 |
| Hot Towel Head Shave | Hot Towel and Lather used along with a straight razor for a clean shaven head. | $50.00 |
| Hot Towel Face Shave | Hot Towel and Lather used along with a straight razor for a clean shaven face. | $50.00 |
| Face Mask | Helps the skin to be cleansed, toned and exfoliated. Great for acne prone skin. | $50.00 |
| Waxing | Removing unwanted hair from Eyebrows, Nose, or Ears. | $15.00 each |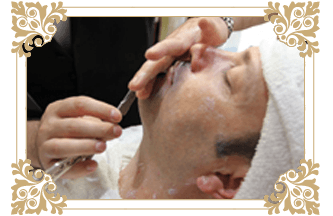 Groom Room Special – $85
MEN'S HAIRCUT, HOT TOWEL FACE SHAVE
This package must to be experienced by every male which includes mens haircut and the most relaxing hot towel and shave experience ever.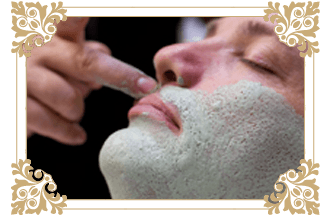 First Class – $130
MEN'S HAIRCUT, HOT TOWEL FACE SHAVE, FACE MASK
This package allows men to be groomed for any occasion. Includes men's haircut, hot towel shave and a face mask which helps the skin to be cleansed, toned and exfoliated. Great for acne prone skin.

*NO SHOWER NEEDED AFTER YOUR HAIR CUT! We utilize a hair vacuum system that allows us to use clippers with an attached vacuum to suck the hair up AS WE CUT IT. Your clothes will never be dirty!
Forget about all of those chain haircut shops and your store-bought electric razor sitting at home: there's a new way to get a fresh cut and shave! Groom Room Barbershop is delivering the styles you want, at prices you can afford. Just take a look at a few of the ways we're helping men get the most out of their styling experience: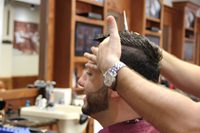 Scissor cut: Got a modern style that's a bit overgrown? Groom Room Barbershop offers some of the best barbers in the state who will employ their talents to get you back to looking your best! We offer virtually every style of Phoenix hair cuts for men and can tailor our cuts to your specifications. When you leave our shop, we guarantee that every single hair on your head will look as good as it feels!
* We offer varying discounts for Seniors, Students, Military Personnel, Police and Firemen with valid I.D.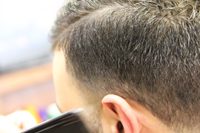 Fades and flat tops: So, you like your cut a little short? At Groom Room Barbershop, we're masters of our craft, especially when it comes to traditional short cuts, like flat tops, buzz cuts and Phoenix fades! Our barbers will trim your hair to the perfect length, blend it seamlessly and give you a clean, sophisticated look that you'll soon become known for.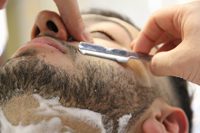 Beard, mustache or goatee trim: Has your facial hair grown a bit too unruly for your tastes? Instead of spending hours at home trimming up every little segment of your beard, mustache or goatee, let a Groom Room Barbershop professional get to work on your defining features. We'll trim up your beard, shape your mustache or goatee and have you looking respectable in no time at all.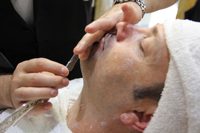 Hot towel shave: Give your face the perfect treatment with a hot towel shave. If you've never had one before, now's the time to start! Our barbers are expertly trained with straight razors and will give you a smooth shave that's so close, you'll wonder how they managed it! Trust us when we say, this is one shave you'll never forget.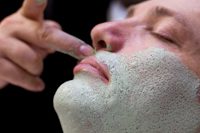 Facemask: The skin of a rough-and-tumble man sometimes needs a little bit of help to remain smooth. When it comes to giving your face the treatment that it needs, look no further than a facemask treatment at Groom Room Barbershop! We'll exfoliate and cleanse your skin, giving it a smoothness you're sure to enjoy.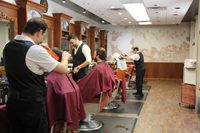 Group Cuts: We offer our services for groups as well to ensure everyone looks great for that upcoming wedding or corporate event!  Take advantage of our group services and call ahead to inquire about discounts including FREE breakfast or lunch when you bring 5+ people with you!

Treat yourself to the perfect haircut or shave today at Groom Room Barbershop! Whether you're looking for the most specific of Phoenix hair cuts or just want to experience a rare hot towel shave, we're your number one barbershop in all of Arizona. Call us at 602-252-2552 or stop in today; no appointment necessary!